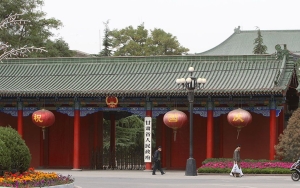 In 2011, China modified the Resident Identity Card law to require their citizens to register their fingerprints.  The aim of this legislation is two-fold: to introduce a faster and more reliable manner of identification, and to reduce the counterfeiting and altercation of IDs.  Finger-collecting expenses will not increase ID application fees.  The new policy will be enacted in January 1st, 2013.
Under this new policy, citizens who are applying for the first time and those who are applying for replacement cards will both be required to register their fingerprints.  On the other hand, those who still hold a valid ID (older version) may register their fingerprints voluntarily before the current ID's expiration.
The Beijing Youth Daily reported that the Ministry of Public Security had sent out invites for fingerprint reader manufacturers to bid for a number of equipment, thus indicating that clear progress is being made to launching the fingerprinting check system.  The minimum requirements are that the manufacturers must be registered in China and must be Chinese-owned or controlled.