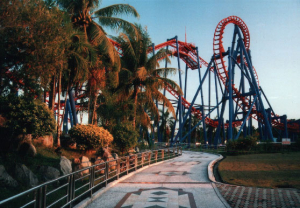 The popular, Georgia amusement park Six Flags has began to implement a new feature at its parks for season pass holders – fingerprint scanning identification in Atlanta. The process uses digital fingerprinting rather than ink fingerprinting. Season pass holders therefore have to scan their membership card and their finger each time they enter a park. The rationale behind this decision is that a fingerprint scan will make lines go more quickly than the traditional photo ID scan, both when initially signing up for a membership, and for entrance into the park afterwards.
Six Flags states that this sensitive information will not be shared outside the company. For those individuals who worry about privacy concerns, guests can also opt out of the Atlanta fingerprint scanning and instead use the traditional photo ID if they wish to do so. Fortunately, the company has a great incentive to do its best to keep the information private, as it would not want to lose to trust and goodwill of its guests.
However, some visitors believe that unfortunately the new requirements have made lines go more slowly than usual, contrary to the intentions of the new program. Hopefully the inefficiency is due to the initial logistical hurdles of the implementation of the new systems, and once employees and guests become used to the new biometrics technique process, everything will run much smoother.