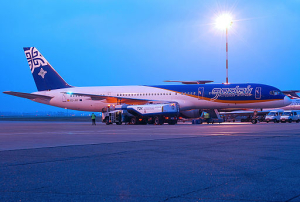 Under new security provisions, millions of Britons leaving the United States will be subject to mandatory fingerprint checks at US airports.
Passengers leaving the US will now have to present their fingers for finger printing in addition to their passports at check-in.  The deputy secretary of the Department of Homeland Security said that the new regulations will apply to all passengers and airlines leaving the US, and will go into effect at the end of next year.
The arrangement further angers many EU airlines, irritated that they currently have to provide passenger name records and are also being asked to supply passengers' credit card details and email accounts.  Virgin Atlantic is one airline that is especially opposed to the changes. They argue that their check-in personnel should not have to do the jobs of immigration officers and they plan to lobby against the proposal.
Despite outcries that the system will create long lines and test customers' patience, Homeland Security insisted that the system will be easy to implement and will not hold up the check-in process.