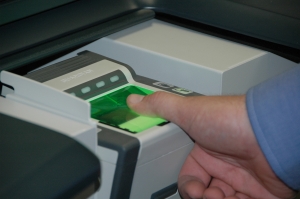 New fingerprinting technology, such as a sharper identification system, can aid police in solving criminal cases. The FBI fingerprinting department has started to utilize a Next Generational Identification System, which has a 99.6% accuracy rate for matching fingerprints, an improvement over the 92% rate of older technologies. With the development of this new technology, local police agencies are now encouraged to run their old unsolved cases through the system to see if any new leads appear.
The FBI's new technology has already helped solved such cases such as the murder of Amber Creek in 1997. The killer, James P. Eaton, was not a suspect in the case until his fingerprints were run through the new system. Other law enforcement agencies in Wisconsin and Oklahoma are also delving into old cases using this new technology. Hopefully this advanced biometrics technology will be able to help solve decades old cases and bring victims to justice.
Another type of new technology allows investigators to capture fingerprints, no matter how much the prints have been wiped away. The prints are lifted using color-changing fluorescent films. Scientists at Leicester University, the ISIS Research Centre at Oxford, and the Institut Laue-Langevin in France developed this process that can help identify hidden prints on weapons and metal surfaces. This technology is currently undergoing trials.
Dutch researchers have also discovered a technique that can date fingerprints. Fingerprints leave behind a mixture of various chemicals, and by analyzing the proportions of chemicals that are left in any print, we can determine how long the fingerprint has been left there. Therefore, police in a crime scene will be able to determine if fingerprints found at the scene were left a day ago or two weeks ago. This dating technique is being tested extensively before it can be used in actual investigations.
All of these new developments in the field of fingerprinting will greatly aid criminal cases, past, present, and future.