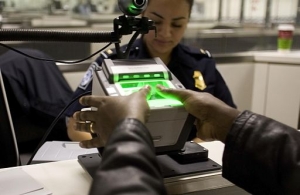 Atlanta's Hartsfield-Jackson International Airport is the second in the nation to start collecting fingerprints from arriving international visitors, in accordance with the Department of Homeland Security's US-Visit program.  This Atlanta fingerprinting program aims to protect security of both domestic and international travelers.
The Washington Dulles airport in Virginia has been having passengers get fingerprinted since November.  Collecting finger print card data is meant to enhance security by accurately and efficiently verifying visitors' identities.
The process benefits so-called "legitimate visitors" of the US, whose identities will be better protected against theft. Furthermore, the Department of Homeland Security will have a better picture of the identities of those individuals that do pose a security risk.
The US-Visit program currently checks incoming visitors' fingerprints against the DHS database of immigration violators as well as the FBI's lists of criminals and known or suspected terrorists. Doing so allows officers to make more informed visa determinations and improves the DHS's ability to detect criminals by widening the available finger prints for comparison.
Fingerprints are scheduled to be collected in more airports across the country, including Boston, Chicago, San Francisco, and New York.